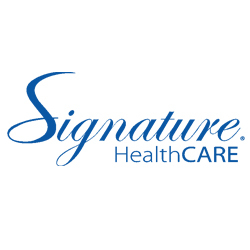 CNA Certified Nursing Assistant
Sorry, this job has expired.
Goodlettsville, TN
Full time, Part time, Per diem
Interviewing this week - all interviews and offers will be held via phone!

We are now hiring Tennessee Certified Nursing Assistants (CNAs) for our Care Centers located in Madison and Portland.

We are offering a new hire CNA rate of $14 to $15 per hour!

Signature HealthCARE strives to be pioneers in TOTAL REWARDS to ensure that we can attract the very best talent. We offer all of the expected health and wellness benefits, but we are proud to go beyond the usual including Free Health Insurance options and more!
• Next day pay
• Uniform allowance
• CNA Pinnacle Career Boost Program - with our company provided training.
Learn more, Earn more and increase your hourly pay rate $2.25 per hour!

Check us out...

Signature HealthCARE's vision is to lead radical change across the healthcare landscape to transform lives. It's a revolution in the healthcare industry where inspiring others to live with purpose is our priority. We invite you to see for yourself...come see what the revolution is all about!

• Current CNA State Certification License (Tennessee) OR
• Currently attending a CNA class working toward certification*
• And must have current/active CPR certification

• We offer 11.5-hour shifts in Portland: 7am-7pm or 7pm-7am.
• We offer 7.5-hour shifts in Westmoreland and Madison, TN: 7am-3pm, 3pm-11pm, or 11pm-7am.

About us:
Signature HealthCARE was founded in 2007 and we are a family-based healthcare company that offers integrated services in 10 states across the continuum of care: skilled nursing, rehabilitation, assisted living, memory care, home health, cognitive care, and telemedicine. A growing number of Signature centers are earning quality assurance accreditation and also pioneering person-directed care. Signature's organizational culture inspires over 17,000 employees with three pillars: learning, spirituality, and innovation.

Are you ready for the next chapter in your career story?

Be sure to ask about our Pinnacle CNA Program and climb our CNA Career Ladder with education, skill development and increased hourly pay!

Signature HealthCARE is an Equal Opportunity-Affirmative Action Employer – Minority / Female / Disability / Veteran and other protected categories.

16510