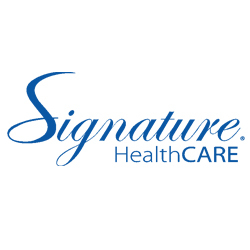 DON Director of Nursing - RN
Sorry, this job has expired.
Newburgh, IN
We are a family-based healthcare company that offers integrated services in 10 states across the continuum of care: skilled nursing, rehabilitation, assisted living, memory care, home health, cognitive care, and telemedicine.

Ask about our $10K SIGN ON Bonus!

We are currently looking for a talented and dedicated Registered Nurse to join our team as Director of Nursing (DON).

Signature Healthcare of Newburgh, a 120-bed facility. It is our mission as a family- based organization to revolutionize the long term care industry through a culture of patient centered healthcare services, personalized spirituality, and real quality of life initiatives. We serve many types of patient and resident needs from short-term rehabilitation to traditional long-term care.

Are you looking for a little more creativity, challenge, and growth opportunity in your workday? Didn't think it was possible? Might be time to reconsider!

At Signature HealthCARE, our team members are permitted... no, we are encouraged – to employ our talents and abilities to solve problems. Our culture is built on three distinct pillars: Learning, Spirituality and Innovation. And this is not hollow corporate sloganeering. Each pillar has its own staff and initiatives, ensuring that our unique culture permeates the entire organization!


Check us out...


Signature HealthCARE's vision is to lead radical change across the healthcare landscape to transform lives. It's a revolution in the healthcare industry where inspiring others to live with purpose is our priority. We invite you to see for yourself...come see what the revolution is all about!


• Licensed Registered Nurse in good standing.
• 3-5+ years of current or most recent experience working in a skilled nursing, long term care setting with proven job stability and positive clinical outcomes.
• Positive Census and Survey history results; customer service oriented with the ability to work well under pressure.


• Enjoy Leading, teaching and training current stakeholders (employees) to achieve and exceed goals by using an interdisciplinary team approach
• Extreme sense of urgency and the ability to re-direct the team to ensure the highest level of care is being delivered to our residents and maintain an environment where collaboration is valued and excellence in clinical care and education is both promoted and achieved.
• Strive to be the subject matter expert in the community where our SHC home resides and not being satisfied with average outcomes
• Engaging and welcoming to new stakeholders that join the SHC family to include directly working hands on as a servant leader and focusing on increasing retention and building employee referrals.


• Effective verbal and written English communication
• Microsoft Office and Internet navigation.

About us:
Signature HealthCARE was founded in 2007 with a vision to radically change the landscape of healthcare forever. A growing number of Signature centers are earning quality assurance accreditation and also pioneering person-directed care. Recent accolades include: 1) Inc. 5000 list of fastest-growing private companies, 2) Great Place to Work certified for two years in a row, 3) ranked Third for Best Workplaces in Aging Services - Large Companies. Signature's organizational culture inspires over 17,000 employees with three pillars: learning, spirituality, and innovation.

Are you ready for the next chapter in your career story? Are you looking for a little more creativity, challenge, and growth opportunity in your workday? If yes, complete this Quick Apply to connect with our recruiter today!

Signature HealthCARE is an Equal Opportunity-Affirmative Action Employer – Minority / Female / Disability / Veteran and other protected categories.

14277