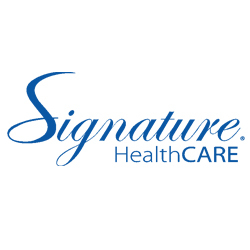 Licensed / Registered Nurses - All Shifts
Sorry, this job has expired.
Terre Haute, IN
Full time, Part time, Per diem
Hiring in Terre Haute.... Signature HealthCARE is an industry leader in post-acute, long term care and rehabilitation services. We have a new Director of Nursing in Terre Haute. Great Place to Work!!

We are now seeking Indiana Licensed LPN / RN candidates to join our talented team!

Conveniently located near Union Hospital on Maple Avenue close to Terre Haute North Vigo HS.

WE ARE OFFERING YOU
• Enhanced pay and benefits
• 12-hour shifts
• 3-day work week
• Weekend rotations
• College Tuition Reimbursement Program
• PayActive next day pay
• Uniform allowance

Check us out...

Signature HealthCARE's vision is to lead radical change across the healthcare landscape to transform lives. It's a revolution in the healthcare industry where inspiring others to live with purpose is our priority. We invite you to see for yourself...come see what the revolution is all about!

• Current LPN/RN State License
• Current CPR certification
• Must be customer service focused.
• Knowledge of Microsoft Word, Excel, Power Point, Outlook, Internet navigation.

• Identify and participate in process improvement initiatives that improve the customer experience, enhance work flow, and/or improve the work environment.
• Direct the day-to-day functions of the nursing assistants in accordance with rules, regulations, and guidelines that govern the long-term care industry.
• Confirm that all nursing personnel assigned to you comply with the written policies and procedures established by this facility.
• Meet with your assigned nursing staff, as well as support personnel, in planning the shift's services, programs and activities.
• Excellent technical, assessment and documentation.
• Effective verbal and written English communication.
• 8 hour and 12 hour shifts available
• Weekend Only options available


About us:
Signature HealthCARE was founded in 2007 with a vision to radically change the landscape of healthcare forever. We are a family-based healthcare company that offers integrated services in 10 states across the continuum of care: skilled nursing, rehabilitation, assisted living, memory care, home health, cognitive care, and telemedicine. A growing number of Signature centers are earning quality assurance accreditation and also pioneering person-directed care. Recent accolades include: 1) Inc. 5000 list of fastest-growing private companies, 2) Great Place to Work certified for two years in a row, 3) ranked Third for Best Workplaces in Aging Services - Large Companies. Signature's organizational culture inspires over 17,000 employees with three pillars: learning, spirituality, and innovation.

Are you ready for the next chapter in your career story? If you are a compassionate and dedicated nursing assistant, we invite you to apply today.



Signature HealthCARE is an Equal Opportunity-Affirmative Action Employer – Minority / Female / Disability / Veteran and other protected categories.

13699