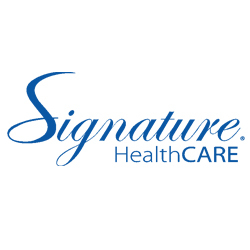 Licensed Practical Nurse / Registered Nurse - Night Shift
Sorry, this job has expired.
Leonardtown, MD
Signature HealthCARE strives to be pioneers in TOTAL REWARDS to ensure that we can attract the very best talent. We offer all of the expected health and wellness benefits, and we are proud to go beyond the usual including Free Health Insurance options and more!
• Next day pay
• Uniform allowance
• Student Loan Forgiveness

Ask about our Sign-On Bonus of $6K (six thousand dollars)!

Signature HealthCARE is seeking Licensed Nurses (LPN / RN) with excellent customer focus and team leadership skills. Located in southern Maryland in the charm of the Chesapeake, we are very proud of our amazing team and would love for you to meet our new Director of Nursing!

Offering full time and part time Night Shift 7pm-7am positions at Chesapeake Shores, a 117-bed skilled nursing facility near the center city of Lexington Park, Maryland.

We are a family-based healthcare company that offers integrated services in 10 states across the continuum of care. We are currently seeking innovative and progressive leaders to join the mission.

Check us out...

Signature HealthCARE's vision is to lead radical change across the healthcare landscape to transform lives. It's a revolution in the healthcare industry where inspiring others to live with purpose is our priority. We invite you to see for yourself...come see what the revolution is all about!

Current LPN/RN State License and CPR certification.

As a Licensed Practical Nurse (LPN) or Registered Nurse (RN) for our team, you will be responsible for providing direct and compassionate nursing care to our residents. Additionally, this position will include supervision of the day-to-day nursing activities performed by nursing assistants to maintain the highest degree of quality care at all times.
• Excellent technical, assessment and documentation.
• Effective verbal and written English communication.
• Organized with strong attention to detail and accuracy.

12-hour shift: 7pm-7am.

About us:
Signature HealthCARE was founded in 2007 with a vision to radically change the landscape of healthcare forever. A growing number of Signature centers are earning quality assurance accreditation and also pioneering person-directed care. Recent accolades include: 1) Inc. 5000 list of fastest-growing private companies, 2) Great Place to Work certified for two years in a row, 3) ranked Third for Best Workplaces in Aging Services - Large Companies, 4) Modern Healthcare Best Places to Work three years running.

Are you ready for the next chapter in your career story? Yes, we invite you to apply today!

Signature HealthCARE is an Equal Opportunity-Affirmative Action Employer – Minority / Female / Disability / Veteran and other protected categories.

16606