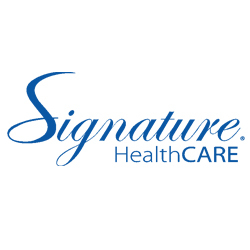 Registered Nurse - LPN / RN
Sorry, this job has expired.
South Bend, IN
Full time, Part time, Per diem
We are a family-based healthcare company that offers integrated services in 10 states across the continuum of care: skilled nursing, rehabilitation, assisted living, memory care, home health, cognitive care, and telemedicine.
Our South Bend facility is expanding and we are seeking Licensed Nurses (LPNs and RNs) to join our talented team! Signature HealthCARE is an industry leader in post-acute, long term care and rehabilitation services.

We offer you:
• Sign On Bonus of up to $6k
• 12-hour shifts
• 3-day work week
• Weekend rotations
• Tuition Reimbursement Program
• PayActive Next Day Pay
• Uniform Allowance

Check us out...

Conveniently located near University Park Mall just north of the intersection of Ironwood and Cleveland Road.

Signature HealthCARE's vision is to lead radical change across the healthcare landscape to transform lives. It's a revolution in the healthcare industry where inspiring others to live with purpose is our priority. We invite you to see for yourself...come see what the revolution is all about!

• Current LPN/RN State License
• Current CPR certification
• Must be customer service focused.


• Identify and participate in process improvement initiatives that improve the customer experience, enhance work flow, and/or improve the work environment.
• Direct the day-to-day functions of the nursing assistants in accordance with rules, regulations, and guidelines that govern the long-term care industry.
• Confirm that all nursing personnel assigned to you comply with the written policies and procedures established by this facility.
• Meet with your assigned nursing staff, as well as support personnel, in planning the shift's services, programs and activities.
• Excellent technical, assessment and documentation.
• Effective verbal and written English communication.
• Microsoft Word, Excel, Power Point, Outlook, Internet navigation.

• 12-hour shifts: 6am-6pm, 6pm-6am.
• Weekend rotations

About us:
Signature HealthCARE was founded in 2007 with a vision to radically change the landscape of healthcare forever. A growing number of Signature centers are earning quality assurance accreditation and also pioneering person-directed care! Recent accolades include: 1) Inc. 5000 list of fastest-growing private companies, 2) Great Place to Work certified for two years in a row, 3) ranked Third for Best Workplaces in Aging Services - Large Companies. Signature's organizational culture inspires over 17,000 employees with three pillars: learning, spirituality, and innovation.

Are you ready for the next chapter in your career story? Are you looking for a little more creativity, challenge, and growth opportunity in your workday? If so, then Apply Now and connect with our team!

Signature HealthCARE is an Equal Opportunity-Affirmative Action Employer – Minority / Female / Disability / Veteran and other protected categories.

14278